5 family-friendly day trips around Ireland this summer
By
eirebus
Thursday, 1st August 2019

With the summer holidays nearing a close and the beginning of a new school year looming, it's important to make the most of what's left of the family summer time. Here's our guide to some of Ireland's very best family days out near Dublin. Many provide group discounts, so why not round up the cousins, friends and neighbours for a fun day out and give us a call to sort your transport needs – with everything from 16 to 64 seater coaches available to hire we'll have you on the move in no time! 
 
The National Bird of Prey Centre is an impressive experience for guests to watch birds soar, swoop dive and manoeuvre like an aerial acrobat as well having the opportunity to handle some of the birds. This centre is open to the public every Wednesday to Sunday from 11am and closes at 5pm and there are family ticket discounts available.
Where: Blessington, County Wicklow
Price: Adults €8 / Child €6 / Family Ticket €25 for 2 adults and up to 4 children.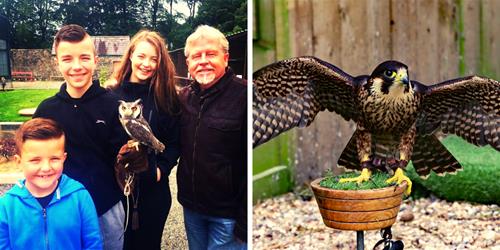 Inflatable water parks are great fun and Ireland's largest inflatable water park promises an experience like no other. There is something available for every thrill-seeker. Tamer experiences include pedal bots, kayaking, sailing and stand-up paddle boarding. The ultimate adrenaline rush will be for those brave enough to conquer Tir Na Nog, the world's largest floating slide. Being open 7-days ensures there are plenty of opportunities to catapult your family and friends into the water!
Where:  Athlone, County Westmeath
Price: Start at €7, with family ticket costing €63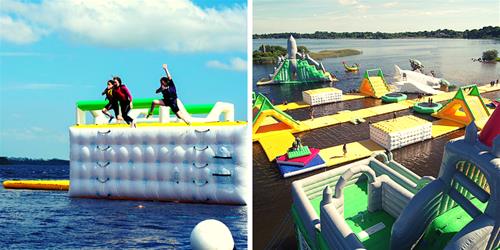 With 80 acres of woodland and lakes, Castlecomer Discovery Park is unique for its not-for-profit social enterprise purpose to develop rural tourism, create local jobs and regenerate the Castlecomer area. As well as the warm fuzzy feeling you will get from doing social goodness, a day trip here will keep everyone entertained with the wide variety of activities on offer to suit all ages. All activities are individual priced and it's a good idea to plan ahead to budget accordingly. Some are free like the Elf & Fairy Village and Timber Tumblers Playground.
Where:  Castlecomer, County Kilkenny
Price: Individual activity prices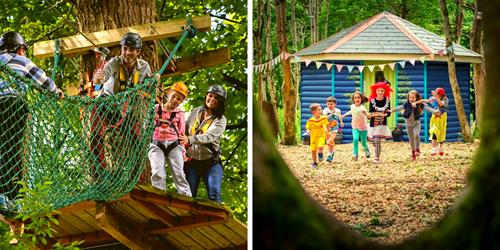 Ireland's Ancient East brings over 9,000 years of Irish history alive in the Irish National Heritage Park. Set across 35 acres, you will discover Portal Tombs, Ringforts, Neolithic Farmsteads, High Crosses, Crannogs, Viking houses and more. A new 180m trail has been added for visitors to experience first-hand what Ireland must have looked like to our Stone Age ancestors. Guided tours with a costumed guide are recommended as are other family friendly activity-based experiences that include falconry, archery and foraging. A family trip here is a unique experience for history lovers and explorers.
Where:  Ferrycarrig, County Wexford
Price: Adult €10.50/ Child €5 / Family €25 for 2 adults and up to 3 children u18. Children u4 FOC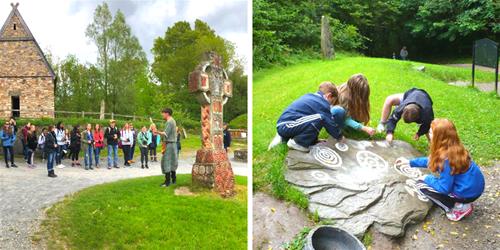 Ireland's favourite potato crisp brand brought their mascot, Mr. Tayto to life and built him his own theme park aptly name Tayto Park. Ireland's only theme park will not disappoint as it offers over 100 attractions to enjoy and experience. This theme park really does cater for all ages and all levels of thrill seeking from the relaxing playground, steam train express, zoo and factory experience to the adrenaline pumping roller coaster, extreme climbing walls and Skywalk.
Where: Ashbourne, County Meath
Price: Entry only from €15.50/ Entry + unlimited attractions from €31.50/ Group discounts available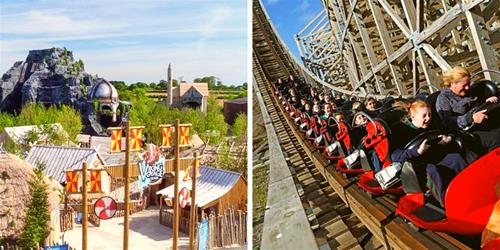 Before the lunch boxes are filled, the uniforms go back on and the children return to school organise a last hoorah with the family! Enjoy unforgettable experiences and a bit of education, whatever you choose, there'll be plenty to keep everyone entertained and booking transport takes the stress out of the day ensuring everyone enjoys it fully.